SCRUBBER RETROFITS FROM 3D LASER SCANNING TO DETAILED ENGINEERING
The more attention is paid to the protection of the marine environment, the more we are led to stricter emission requirements. The MEPC 70 determined, that the sulphur content of fuel oil used by ships globally is not to exceed 0.50% m/m as of January 1, 2020. Furthermore, the recent MEPC 71 ruled out a possible delay of the 2020 implementation date. As a reliable partner in such a difficult situation, we bring together our knowledge and experience, in order to offer a comprehensive service, even for such a complicated and expensive retrofit, as the EGC system is. Our approach is focused on helping our customers navigate through this complex financial and engineering retrofit.
Due to its complexity and size, the installation of a scrubber is a difficult task. Within the framework of a techno-economic study, we bring together economic and technical data in a report with cost curves of different systems, in order to make the choice easier for the client.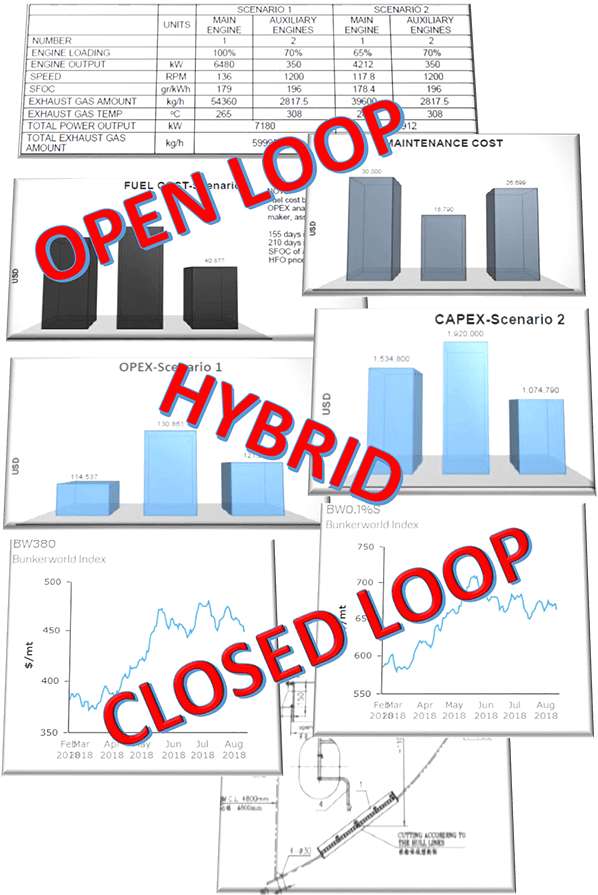 At the start of a scrubber retrofit, it is considered necessary to scan the vessel's funnel. After a 3D laser scanning survey, we collect all the required data in order to create a 3D point cloud, which will be used in the next stages, feasibility, concept design and engineering, where a high accuracy is required. With an accurate point cloud 3D modelling becomes more detailed, which inherently improves the installation process.
The detailed engineering includes all the mechanical drawings, the BOMs, the construction DWGs and the necessary electrical studies. All the documentations are submitted to the classification society, while the technical specification containing the installation configurations is delivered to the owner. During the engineering phase, all parties, the classification society, the owner, the shipyard and the consulting office, collaborate, to ensure the proper implementation of the scrubber exhaust gas cleaning system.
A scrubber could be a huge structure, that is built into the ship's funnel. Depending on the needs of each manufacturer each EGCS may be different from the others. Therefore, it seems necessary to study the installation possibilities of each individual scrubber. During the feasibility study we create a virtual model using the 3D point cloud with EGCS main piping and equipment, in order to present a complete solution. The owner can comprehend the installation pattern of each scrubber and make an informed decision.